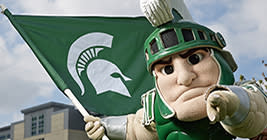 While the Mens Basketball team and football team march boldly toward legendary seasons, let us not forget the other sports action happening on the greatest campus in the nation! That's right! Dont stop at showing love for Dantonio and Izzo! Other awesome Spartan sports like Mens Ice Hockey and Women's basketball are getting into their seasons and provide even more opportunities for you to cheer for the Green and White!
In fact, when you go to the website and see all the other Varsity sports going on at MSU, 24 in total, it will churn your spirit for even more Spartan Sports action, and you'll feel like you're selling yourself short just gobbling up football and Men's Hoop. Volleyball, field Hockey, Swimming and Diving - its all here and often times excellent seats are at a bare minimum of expense.
Spread your love of Spartan athletics further into other sports! Feel the chill of Munn Arena! Watch Suzy Merchant lead the awesome female basketballers as they destroy the Big Ten competition! Think big my friends! Its an awesome time to be a Spartan, exercise your right to see all kinds of green and white glory!