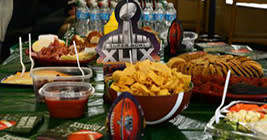 Wikipedia explains Super Bowl 50 as an upcoming American football game that will determine the champion of the National Football League (NFL) for the 2015 season. How would an actual person describe it? Its the NFL Championship game and, when done right, a food-lovers paradise. Yes, no matter the outcome of the game the food at a Super Bowl party is the real star of the game. I'm talking about pre-game food, halftime food (that will be better than Beyonce and Bruno Mars) early 4th quarter food for when the game is basically over and you're just looking to stuff yourself and yes, food for when the game is over (hey, you haven't eaten in like...15 minutes!). The attendees at your party will be hungry for more than great sports action, they want incredible tailgate-style foods - and lets face it, you'll be hungry too. Like diet-busting, cheese stuffed with cheese stuffed with bacon, kind of hungry. So what's the plan? Are you going to slave over a hot stove all day keeping people fed and catching quick game updates from your phone or by trying to read the cheers and jeers of your newly invited peanut gallery? No, don't do that to yourself. Do the Super Bowl party right and leave the food to the experts. Here, for your pig-out pleasure is my top five Greater Lansing restaurants to hit up for your one-of-a-kind, mind-blowing Super Bowl Food Fest.
Maru Sushi and Grill - Maru is well known as the best sushi place in town, and dozens of different incredible sushi rolls would make a perfect Super Bowl buffet. Amazing sauces and fresh ingredients come together for food thats salty, sweet and spicy all in one bite. This is also a great choice if you have any Vegetarians or Vegans in your group. Just because they dont eat meat or dairy doesnt mean they should have to sustain themselves on plain tortilla chips and celery.
Buffalo Wild Wings - This one is a no-brainer. Obviously wings and football go together like monkeys and bananas so contact Buffalo Wild Wings early in the process and get a large order together that includes the wide range of sauces available as well as some incredible sides to cut the heat from the wings.
Pizza House - Yes, pizza is a huge fan favorite and by getting different pies with different toppings you're sure to have your whole crowd smiling. Pizza House is uniquely qualified to deliver (yes they deliver) this incredible pizza buffet as they are one of the only places around to get real Chicago-style pizza that is absolutely incredible. They also offer salads, subs, pasta and more so tell your friends to come hungry and wear sweatpants.
Jersey Giant Subs - A Lansing submarine sandwich icon for over 30 years, Jersey Giant is the answer for incredible subs for an incredible party. With party trays available when you call ahead you can easily have subs, all put together and amazing, for a group of about any size. Amazing salty meats, fresh veggie toppings, the amazing oil sauce and soft flavorful bread. Its an incredible sandwich voyage you need to take. Grab some chips, a jar of pickles and the party is off and running.
Qdoba Mexican Grill - A Qdoba catered Super Bowl party will make you the envy of all your friends. You also dont have to worry about people not liking whats on their burrito or bowl or nachos because they will dress them up themselves. A buffet style line-up of tortilla, rice, beans, meat and veggies will have everyone putting an incredible plate together and looking to come pat you on the back.
The Super Bowl game will be held on February 7, 2016 at Levi's Stadium in Santa Clara, California, between the National Football Conference (NFC) champion Carolina Panthers and the American Football Conference (AFC) champion Denver Broncos - but what do you care? You're here for the food!