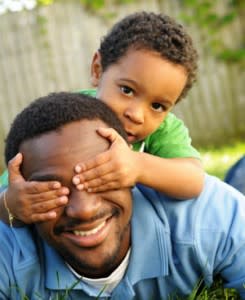 Well its crunch time for Christmas shopping and people are really flying around trying to get a little something special for everyone on their list. Well when you are picking up a toy pistol for Tommy and a dolly for Sue, don't forget a little something for dear old Dad. Doesn't have to be anything fancy, just a little something so he knows he raised you right. As a father myself, I thought I'd take a minute and give a quick top five gifts for dad this holiday season - and wouldn't you know it, they can all be found around the Greater Lansing area.
1. Dad likes to sit back in his chair and read a book when he has a minute to relax. Find out what your Dad finds interesting and get him a book about it. Maybe a book about the Spartans, or the Lions or Red Wings? Or a book about one of his favorite actors, or working with wood, or grilling, or home brew for beginners - you get the drift. He has interests and, trust me; there are books about them all. I recommend Schuler's Bookstore at Meridian Mall or Eastwood. Find a book more unique and off the beaten path at Curious Book Shop or the Archives.
2. If you're like most people you know your dad has been known to enjoy a cold one once in a while. Maybe at 5:45 on a Friday (pretty much known as Miller time throughout man-world), or during a Tiger game in the Summer or after mowing the lawn on a hot sunny day. Well, how about a 6-pack of craft beer for him to enjoy? Maybe you can find something he's never tasted and he will really like? Pick up something unique at BAD Brewing Company in Mason, EagleMonk Brewery or the Midtown Brewing Company.
3. It used to be that gift cards were seen as a copout but in todays busy world, where literally everyone seems to offer a gift card, I say go for it. I mean it. Its nice to know you have a gift card in your pocket to a place you like long after Christmas has passed. Maybe Dad wont even use it for a gift for himself, per se, but the gift card could cut into the cost of something he needs, like mulch for next spring from the local garden and home store, or a free burger at his favorite restaurant some lunchtime in February. Its a good thing and its a way to stretch out the good feelings of the season a little more.
4. The next idea I have is a gift that doesnt cost any money, and you can't get it from a store. Sound interesting? This is a really good one for the young people out there who might be a little light on cash. Go to your Dad's house and help him do some of the jobs that he has to do but doesn't enjoy. Clean up the garage, crawl around and change the furnace filter, you get the drift. Want to earn big points? Come over the week after Christmas and help him take the Christmas decorations down!
5. I cant speak for everybody, but I bet I'm right, what Dad wants most is some nice quality time with family. If not on Christmas day itself, block out some time to spend with dad, maybe take him to lunch and talk about things and just generally remind him that he's your dad, you're his child and all is well in this big, crazy fast-paced world.