Want to get the most out of Be A Tourist? Try the Red Route!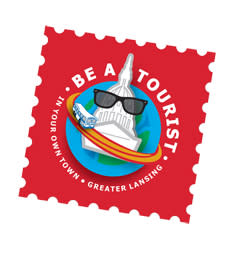 Unless you've been hanging around under a rock, you know this Saturday, May 31st, is the 20th Annual Be A Tourist In Your Own Town. On this magical day in the Greater Lansing area, with just your $1 passport in-hand you can open the doors to over 70 area attractions, hot spots and special places. Pretty cool. If you've never done it, you're missing out, if you're a fan of the event, get set for fun! This blog entry is going to focus on the key fun to be had should you choose the fabulous Red Route, which serves downtown Lansing and its robust list of offerings. How often do you get downtown? Unless you work downtown, I bet its not that often. Take some time during Be A Tourist and find out everything going on in the heart of Michigan's Capital City! Lets take a quick tour now with my super-quick teaser description.
Greater Lansing Sports Hall of Fame - Yes Magic Johnson is in the Greater Lansing Sports Hall of Fame, no surprise, but what will surprise you are the dozens of others!
La Fille Gallery - New Gallery downtown Lansing, don't miss it!
Impression 5 Science Center - Hands-on childrens science museum a total hot spot!
RE Olds Transportation Museum - Are you a car person? This is a GM town! Learn up on the past!
9/11 Remembrance Memorial - Across from the Radisson
Lansing Central Fire Station - These guys have been putting out fires since horses pulled the firemen.
LCC TV & Radio - Behind the scenes at a TV and Radio station is a must-see.
LCC Shigematsu Garden - This place is unreal, and I bet you haven't seen it.
Veterans Memorial - Thousands from Michigan have served the Nation proudly. Experience this monument to their memory.
Historical Society of Greater Lansing - Its history time! What do you know about your hometown?
State Capitol Building - such a cool attraction, usually not open for tours on Saturday!
Lansing Art Gallery - A downtown staple.
Book Burrow - Such a great place to get awesome books dirt cheap!
Reutter Park - These guys are putting on a musical instrument petting zoo!
CADL - Downtown - Get to love your local library, no need to say more!
Michigan Historical Museum - So much State history you've got to see!
General Motors Ride and Drive - Thinking about a new GM automobile? Check them out today!
Michigan Women's Historical Museum - these ladies are leaders you need to know about!
Cooley Gardens - Tranquil and awesome, that's all I can say.
CATA Transportation Center - Gear-heads and children love to see busses do their thing, check it out!
Thats the quick and dirty on the Red Route. Get out and make Be A Tourist a true day of discovery!