Fall is an awesome time to go for a nice walk or a run and enjoy the crisp weather (yes there is such a thing), take in the fall color and overall enjoy the change of the season. If you feel adventurous and are tired of walking around your block come to Greater Lansing and take advantage of the awesome trails, parks and natural areas that are perfect for stretching your legs and inspiring your mind - whether its for one mile or for fifteen.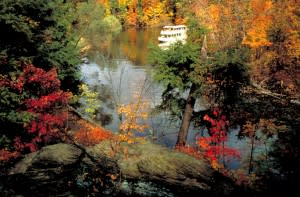 Specifically phenomenal is the Lansing River Trail. Newly lengthened and beautified the City of Lansing's River Trail traces the banks of the Grand and Red Cedar Rivers and Sycamore Creek, connecting comfortable parks, historic sites and urban activity centers for about 13 beautiful miles through Lansing and East Lansing. Public parking is available at regular intervals along the trail including Saginaw and Oakland Avenue, Turner Dodge House, Potter Park and others. Also give Northern Tier Trail a good look. This 4.5 mile scenic trail takes you on winding paved pathways through East Lansing. The trail connects community parks and recreation facilities and is a natural showcase for a variety of wildlife, plants, flowers, trees and wetlands. A great place to access the trail is at the East Lansing Soccer Complex off Coleman Road or the East Lansing Aquatic Center. Like to bring your four-legged companion on a walk or run? Of course! Area dog parks like Northern Tail Dog Park in East Lansing and the Howard and Erna Soldan Dog Park in Lansing are great ways to get your pooch off the couch and out having fun with you, or other dogs if they can play nice.
Additionally I'd be remiss if I don't mention the awesome Nature Centers in the region that are blooming with fall color right now and are just begging for a long and thoughtful walk or jog in the woods. I'm speaking specifically of WM Burchfield/Riverbend Natural Area, Fenner Nature Center, Harris Nature Center and Woldumar Nature Center. They are in great locations all over the region and offer unique seasonal events and enriching naturalist programming all year long, so check them out. I personally find they all really shine in the fall season - see if you don't agree.
Then of course the Greater Lansing region boasts the remarkably gorgeous Big Ten Campus of Michigan State University. At right around 5,500 acres or so this gem of a campus was planned out and planted by some of the nations leading Botanists, Forestry gurus and national Horticultural/Agricultural legends. Do you think there is any way this campus wouldn't be a woodsy, scenic and nature-lovers paradise? Of course it is. Take a stroll through campus really anywhere and its amazing but be sure to stop at hot spots like the MSU Horticulture Gardens, the Demonstration Gardens and the 4H Children's Gardens. Try to run to all three! Theres a nice workout, Spartan-style. Fall is here and the color is about to pop, so DVR the football game, (well, not the Michigan State game, that's too important. I mean the pro games and any other college games), grab your running buddy, put on your shoes and hit the trails. A complete natural thrill awaits you in Michigans Capital City.