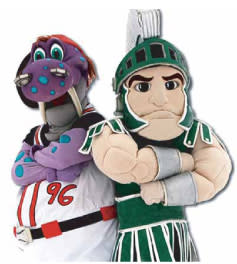 The long wait is over sports fans! It's finally time to celebrate the return of baseball to downtown Lansing as we gear up for the Crosstown Showdown tonight at Cooley Law School Stadium as the Lugnuts take on the Michigan State Spartan baseball team. The early part of the day has been chilly and wet so lets hope if it doesnt get sunny, it at least stays dry for this once-a-year event.
No matter who takes local bragging rights in the Crosstown Showdown, tomorrow is opening day for the Lansing Lugnuts regular season as they take on Lake County at 7:05 p.m. - What does all this mean? It means welcome back baseball, take THAT old man winter and give me a brat with relish and onions and a big draft beer.
For anyone who doesn't already know Cooley Law School Stadium has undergone major renovations over the winter and having seen it all for myself today (yes, I'm lucky like that) I can say the changes are impressive. New paint, signage and concession frontage in the concourse, a fully renovated suite level, changes to the seating to offer a more specialized experience, new scoreboard, picnic area and restaurant in the outfield - all with an 82-unit apartment complex on the way. Its going to be an awesome place to take in a game, make some memories and have some fun, things that minor league baseball is all about, am I right?
So yes, its back, and it starts tonight. Baseball in downtown Lansing, a twenty-year tradition going strong. Come out tonight and all season long to Go Nuts in Michigan's Capital City!!
Crosstown Showdown - Thursday April 9th