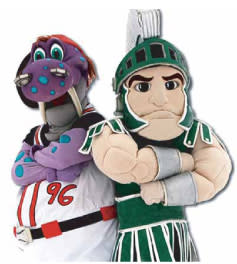 Spring baseball kicks off in Greater Lansing in a really cool way, bringing together two of Greater Lansing's most prized jewels, Michigan State University Athletics and Lansing Lugnut Minor League Baseball. That's right, the Crosstown Showdown pits the Spartans of the Big Ten against The Lugnuts of the Midwest League Class "A" affiliate of the Toronto Blue Jays.
It's truly a Lansing versus Lansing, brother versus brother type feel where no one really loses, its just a fun time to get back out into the stadium and after a long cold break, once again take in the great game of baseball. I think over the years each team has one a time or two, so I think the baseball competition has been pretty tight but when it comes to mascots, its a different story. Big love to you Big Lug, but Sparty's the boss, no questions asked. Pretty sure even Lug would agree there.
The evening of Thursday April 11th is this years match-up and the opener for Cooley Law School Stadium for the 2013 season and the schedule is hot and heavy from there on out throughout the summer. Baseball becomes a downtown fixture once the weather gets warm and a whole new element of entertainment wakes up. No longer are we bundling up and running to our cars to get home. We're slowing down, enjoying the sun on our face and seeking opportunities to bask in outdoor conditions. The Crosstown Showdown means baseball is back in downtown Lansing! Good luck Lugnuts! Good luck Spartans - but even more important, welcome back spring!
Find out everything you need to know about the Crosstown Showdown and the Lansing Lugnuts 2013 season on the Lansing Lugnuts website, but special game promotions, themes and events will also be featured in the robust special events section of lansing.org - PLAY BALL!