Hey sports fans, join the Greater Lansing Sports Authority in welcoming to the sports community, Lansing United, a National Premier Soccer League (NPSL) team that will begin playing this summer.
Yes, make room Lansing Lugnuts and Capital City Stealth, the area now has a soccer team - and there is already measurable excitement. If you happen to wonder if the Greater Lansing community is big enough, or sports-minded enough, to support a team such as this, just ask the man who started the franchise, long-time Greater Lansing area resident and former WILX TV-10 Sports Director, Jeremy Sampson.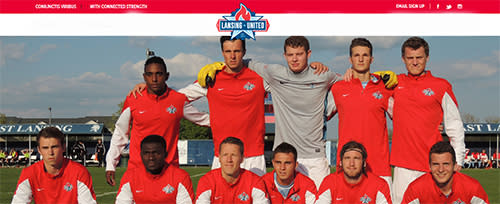 Lansing is a viable option for something like this. Theres no doubt. People here in Lansing love their sports. Ive seen it first hand, says Sampson. Ive never looked at it as the big [varsity] versus the JV, if you will. I know that this community loves soccer. I know that this community is going to support this team.
Why did Sampson decide to start a soccer franchise?
Sampson says that while he didnt play soccer growing up in rural Michigan and plays recreationally as an adult, he has a passion for the sport and he sees that passion growing in the community, especially among young players. He points to the fact that more than 25 Mid-Michigan communities offer youth soccer programs as evidence of the sports rapid growth in popularity locally.
The number of people in the area that play the number of youth that play. The growth over the last five years has been incredible, explains Sampson. Thats what made me realize Lansing is ready to support its own team.
Lansing United games will be played on the main stadium field at the East Lansing Soccer Complex off Abbot Road and will welcome teams to the area such as the Cincinnati Saints, the Erie Admirals, the Indiana Fire, the Michigan Stars and more.
Lansing United opened its season with a win May 16 under the lights at Archer Stadium and we at the GLSA hope its the first of many. Visit www.lanunited.com for more information.