Sure this is my blog, but sometimes the best thing you can do is step to the side and let an insider talk. Coming up August 3-10 in the Greater Lansing area, more specifically on the campus of Michigan state University is the World Dwarf Games. Literally the biggest exhibition of Dwarf sports in the world. Here to talk a bit about what it is, and what it means to the competitors, is the GLSA's contact for the event, Roger Pouliot. Take it away Roger: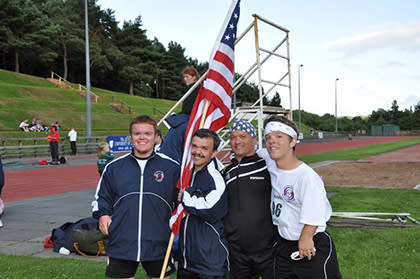 A great event is coming to the Lansing/ East Lansing area in August, The World Dwarf Games (WDG)! I hope this interests the Lansing community to come and see or volunteer. I have been involved with the Dwarf Athletic Association of America since its inception in 1985.This happened at the National Les Autres games at MSU in East Lansing. This organization (DAAA) has led me to local, national and international competition representing the USA, a fact that gives me great pride. As a person with Achondroplasia dwarfism, I didnt see too many sports opportunities for myself, or people like me, after high school. The games in 1985 gave many short statured athletes the start of active competition into their master years. At 31, I was able to compete under the disability sports umbrella all the way to the 1988 Paralympics in Seoul Korea. The world dwarf games help athletes get to that platform of competition. There have been 5 WDGs which I have been at 4 of them. These games now start at the young juniors age of 7-10 year-olds. My late father, Roy Pouliot, (swim coach & masters swimmer), never thought that I would have such a venue to compete in when I was young. Im glad I had his support when I was training for the games in my later years, and he would certainly be proud of what the WDG have become today. Now at 55, and still competing, it really makes me glad the games are back in the Lansing area. I hope anyone reading this will come and support the USA athletes and see competition as good as it gets.
Roger Pouliot
Welcome to Greater Lansing World Dwarf Games fans and competitors, here's to a great week of fun and competition! For more information check out this link!