Buckle up Spartan fans; we're headed back to Indianapolis for the Final Four!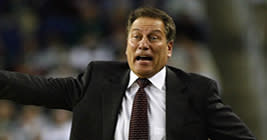 Around here we know head Basketball Coach Tom Izzo is worth his weight (or more) in gold, but he's proven it once again, getting the 2015 Michigan state Spartan Men to yet another Final Four in the NCAA Tournament - his 7th in his 20 years as head Coach. This years cast of Spartan cagers has led us on an exciting and unlikely journey, with some close losses and last second victories as well. Followers of Spartan basketball will tell you this is not one of the more talented teams we've had in recent years, but they have proven they have the guts, mettle and trust in one another to punch and claw their way past some tough opponents and into the big dance. Starting with some inspired play in the Big Ten Tournament (ending in the championship game to eventual #1 seed Wisconsin); the Spartans have out-shot Georgia, Virginia, Oklahoma and Louisville. Defensive stock that had been missing a lot of the year and shooting touch and confidence that every team longs for have become recent calling cards. It's no surprise to folks around here that Coach Izzo has the team tuned up and playing its best ball right at tournament time, after all he's been doing it for two decades now. I mean really, how spoiled are we to have 7 final four appearances, 13 sweet 16 appearances and a national championship all under one coach. While coaches throughout the Big Ten have come and gone and schools have searched for the right hoops leader, we've been cruising along with Tom Izzo and enjoying wins and consistency that is nationally renowned.
Michigan State's Final Four game versus Duke is at 6 p.m. on Saturday night and if you're not one of the lucky folks headed to Indy to see it live, do the next best thing and watch the game in an East Lansing, or Lansing pub and cheer GO GREEN GO WHITE with the 70 or 80 brand new friends you'll make. We've had a lot to cheer about lately in Spartan Country, but we're never satisfied. Lets bring our A-game and cheer on our Spartans for another big win and a chance at another National Championship! Let's Go State!