Pick Up the Phone - Winter Fun Is Calling! (I Mean Instagramming.)
Guest post by Tracy Padot: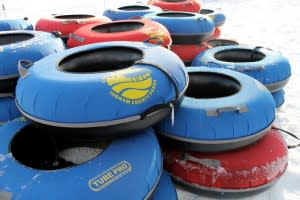 Last week my in-laws and 12 year old niece were in town from Florida to celebrate the holidays. Since my job occasionally involves escorting travel writers around Greater Lansing pointing out all of the fun things to see and do I was extra pumped to tackle the challenge of entertaining the extended family. This should be easy for me right? Right! Although typically the writers arent glued to their cell phones like a typical tween and I had a rambunctious toddler in the mix, so I knew I had to be on the top of my game for this adventure. Since my niece was born and raised in Florida, she had never seen snow so I concentrated our outings to outdoor activities.
First on the list, *Wonderland of Lights at Potter Park Zoo. Other than a hilarious run in with a baboon at the monkey house it was great. (Ok technically a Mandrill for those who care, Im old its still a baboon in my book.) Lights, cocoa, cookies and crafts rounded out an enjoyable evening and gave my niece a delightful photo opp to Instagram her friends. Cool aunt points to boot score!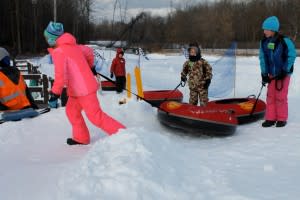 Next up. Hawk Island Snow Tubing Hill. Since there wasnt any snow accumulation I went the next best route. Man made! The folks at Hawk Island had a great base for the tubing hill, so I bundled my niece and four year old in the car and off we went. Admission prices included a $5 parking fee and tubing cost $10 for adults and $5 each for the kids for two hours of tubing. The three of us had a blast! Handy tow ropes got us to the top of the hill without effort and you could choose from three lanes to zip down. Theres something freeing about whizzing down a frozen hill, cheeks pink from the chill, grinning ear to ear. I felt twelve again! Once our toes got frozen, we warmed up next to the fire pit, then started the trek all over again. The snow machines were blowing tiny ice particles that rained down on us in as we rode the tow rope up the hill so after our two hours we were ready to hit the snack shack for hot chocolate and treats.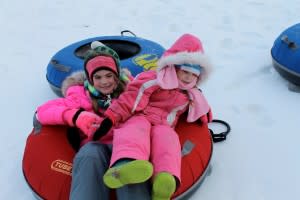 The park was clean and well maintained. Before you head out, check the parks website for snow conditions, pricing and hours. The tubing hill is even available to rent for private parties. Id highly recommend it as a serious consideration for anyone looking to host a unique winter birthday party for their kids.
Hawk Island was an awesome way to entertain my family for the afternoon and gave my niece memories from Michigan she wont forget. And just in case she does, she has the Instagram, SnapChat and Facebook posts to remind her.
*Note that the Wonderland of Lights event is over, however, you can mark it on your calendars for November 20-December 27th on Thursdays through Sundays from 5-8 p.m.