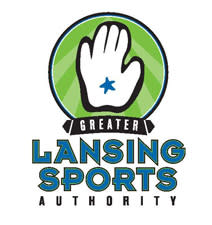 As long as the Greater Lansing Sports Authority (GLSA) has been around, about 6 years now, and even with as much involvement is the GLSA has in the local sports community, there still appears to be some who either have never heard about the GLSA, or don't understand what they do. I have spent the last two days driving all over the community with a video crew, capturing top-notch footage of area sports facilities, to then turn around and use to promote Greater Lansing as a first-rate sports tournament host city. From soccer, baseball, softball and tennis to road races, figure skating hockey and more the GLSA is out there, trying to get all these sports tournaments to choose Greater Lansing as their next site. We'll then use that footage to make videos to show off area sports facilities to people around the country that plan athletic events of nearly every kind. Why?
Because our mission is to be the leading voice of sports tourism in the Greater Lansing area and to promote economic growth by attracting a diverse range of sporting events to the region. We will strive to enhance the quality of life for area residents through the development of local sports and fitness programs for all ages, with a special emphasis on the underserved population; and to support the continued development and maintenance of safe, high-quality athletic facilities.
The GLSA understands planning a sports tournament or event is tough. We know no one thing is more important than any other and, just like in sports, balance is everything. Located right in the middle of Michigan, Greater Lansing has that balance and the services staff of the GLSA will be on hand to spot - from start to finish. No matter the size of the sports event, the GLSA is there to help. We're not just an information source, but a true partner in the whole planning process. What do we do to help Lansing stand out?
Services Provided by GLSA
Venue Recommendations
Venue Negotiations
Hotel Proposals
Assistance with Event Publicity
Event Management Counseling
Assistance with Marketing
Volunteer Recruitment
Entertainment Options
Personalized Event Visitor Guides
Registration Assistance
Program Planning
Local Referrals
Dignitary Welcome Letters
Custom Website Development
Sports tournaments can mean big money for the community and they also enrich the region by offering fun, fitness and access to wellness opportunities that would otherwise not be available. What does the GLSA do? Help - help you, help Greater Lansing, help local venues - and more. got your interests peaked? Learn more at Greater Lansing Sports Planners!