USA Cheer and the Greater Lansing Sports Authority (GLSA) are proud to announce the 2018 College STUNT National Championship will be held in the Jenison Field House on the campus of Michigan State University in East Lansing on April 27 – 29, 2018.
Women's STUNT, the new varsity sport derived from cheerleading launched by USA Cheer, is in its eighth season at the college level and fourth for high school. More than 50 colleges have participated over the past seven seasons, and more than 100 high schools from nine states have participated, making STUNT the fastest growing female sport in the country. Developed to meet the requirements of a sport under Title IX, STUNT takes the athletic skills of cheerleading— partner stunts, jumps, tumbling and pyramids —and creates a full, hour long format that challenges teams in head-to-head competition.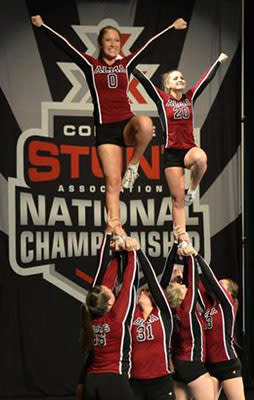 The Championship weekend will kick off Friday night with the inaugural Varsity STUNT Championship game. This game pairs Alma College and Davenport University, two top ranked STUNT teams that compete as a Varsity sport program under their school's athletics department during the spring season. Davenport has claimed several championship titles in the past, and Alma was a close second in 2017, and holds the number one seed for the first time in 2018.
"We are excited to invite these talented teams to Michigan for our eighth College STUNT National Championship," says Lauri Harris, Executive Director of USA Cheer, which developed the format of STUNT in collaboration with cheerleading experts, women's sports experts and coaches from colleges and universities with long histories of cheerleading excellence. "The coaches and athletes have shown a remarkable dedication for this new sport, and an enthusiasm for demonstrating what makes STUNT unique. Once an athlete tries the STUNT format, she is hooked!"
Mike Price, Executive Director of the Greater Lansing Sports Authority shares Harris' enthusiasm for the event. "This is a great event and we are very proud to bring this event to Greater Lansing and into Jenison Field House. It's our hope that we see a weekend of great competition and visiting teams getting out and exploring the Greater Lansing region."