Michigan State University graduate student Piotr Pasik loves seeing the look on people's faces when he tells them he plays tennis. As a wheelchair user, Pasik learned early on to defy others' expectations. At MSU, he has studied Kinesiology, traveled the world and got involved with MSU's Adaptive Sports Club.



Upon early exploration into the right place for him to get started Pasik found MSU to be both wheelchair accessible and committed to the concept of people with disabilities exploring opportunities to reach their dreams.

"I saw the opportunity here to thrive — to get a great education and to be independent," said Pasik. "As a child in Poland and then in the United States I used to watch sports on TV but as a young person with cerebral palsy, playing sports myself was a distant dream that always seemed out of reach."

Through hard work, determination and university resources Pasik now teaches an integrated wheelchair sports course at msu and lectures on adapted physical activities for those with disabilities. Pasik is proud to be part of these breakthroughs at Michigan State University, home to the top adaptive sports rink in the Big Ten. He is breaking through barriers by using sports to help students understand more about their specific disability, physical and mental wellness and social inclusion of all students.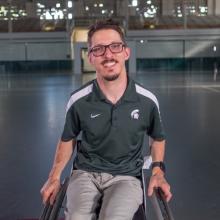 "One of my goals is to make MSU a destination for future Spartans with disabilities and at the same time, creating a blueprint for inclusion that other higher education institutions across the country can follow."

The Greater Lansing Sports Authority and the Greater Lansing community is fully vested in opening doors and creating opportunities for the growth of adaptive sports in Michigan's Capitol region. From proven research going on at Michigan State to the GLSA's involvement with adaptive sports tournaments and barrier free sports venues we're seeking to make Greater Lansing Michigan a destination known as a place where everyone gets into the game and feels the euphoria that can only come from the thrill of competition.