The Greater Lansing Sports Authority (GLSA) is pleased to announce it has hired Elise Penhollow as Sports Coordinator.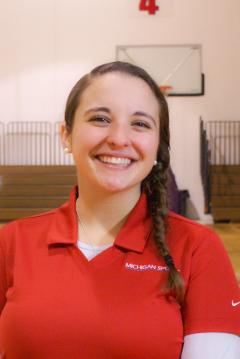 Penhollow holds a bachelor's degree in Hospitality Business from Michigan State University, with an Agricultural Minor in Sustainable Natural Resource and Recreation Management.
Before securing an internship with the GLSA in 2018, Penhollow held hospitality positions with Forest Akers Golf Course and the Kellogg Hotel and Conference Center in East Lansing. Previously she gained experience as assistant manager of Perani's Hockey World in Ann Arbor and in East Lansing.
Penhollow will provide overall support to the GLSA by handling numerous tasks including administrative duties, communicating with members and clients to streamline the sports-event-planning process, and managing the client database. Additionally, she will assist in maintaining the GLSA social media presence and development of microsites for visiting groups.
"Elise has been a hard-working and dedicated member of the team since she started as our intern," said Mike Price, Executive Director with the Greater Lansing Sports Authority. "We know she will continue to be a valuable asset to the GLSA."
If you have any questions about the GLSA, call 517-377-1411 or visit www.lansingsports.org.