It doesn't take long to notice Greater Lansing is undergoing a major reconstruction. Cranes are in the air, shovels are in the dirt and the community at large is at the threshold of a completely revitalized region. The project turning the most heads is the 600 Block Development by the Gillespie Group, bringing the first new hotel to downtown Lansing in 30 years, and it's first ever urban grocery store. The massive 150 thousand square foot 600 Block development will occupy a 4.15-acre portion of land on the 600 block of Michigan avenue, adjacent to Cooley Law School Stadium. The development is slated to house thirty-six 1 and 2-bedroom apartments, a hotel, a 5,000 square foot restaurant/bar and a grocery store. The project has broken ground, the project is underway and is scheduled to be complete by the end of 2020. The grocery store, an urban market concept by Michigan grocery giant Meijer, will be a 37,000 square foot store on the south east corner of Michigan and Cedar street. The hotel, a Courtyard by Marriott, will have 124 guest rooms will include a bar and lounge, fitness center, three meeting spaces and an outdoor patio.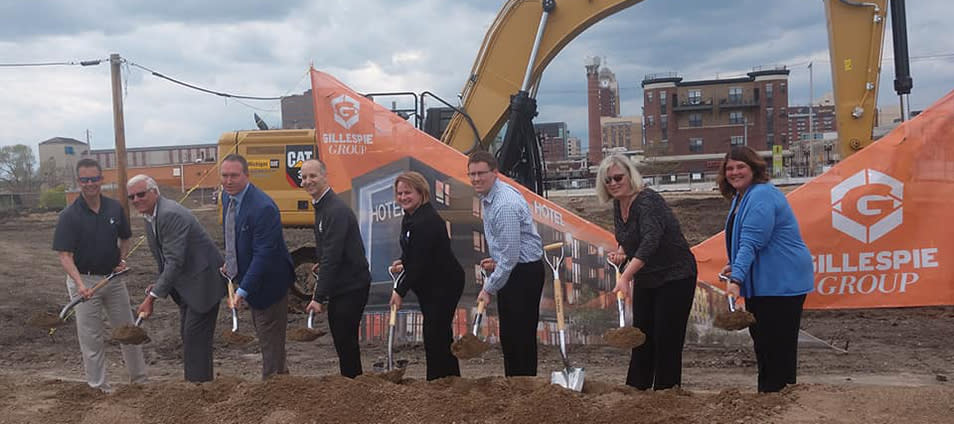 Pictured left to right: Dave Buckenberger and Jack Schripsema with the Greater Lansing CVB, Pat Gillespie of Gillespie Group Development, Mayor Andy Schor and Julie Pingston, Erik Decker, Mary Chris Hotchkiss and Brenda Haight with the GLCVB.
"The Gillespie Group continues to demonstrate their vision and commitment by leading the way in moving the Lansing region forward," said Jack Schripsema, President and CEO of the Greater Lansing CVB.  "This exciting development will attract thousands of new visitors and residents alike who will experience a vibrant Stadium District and welcoming Lansing region."

Hilton Garden Inn
Additionally, now open on Lansing's West side the new Hilton Garden Inn West will be the first new hotel property on Lansing's west side in many years. Right off the I69 expressway the hotel puts guests just moments from restaurants, shopping, event venues and attractions like the State Capitol (10-minute drive) and Michigan State University campus (15-minute drive). The Hilton Garden Inn offers 5,500 square feet of flexible meeting and event space, a heated pool, whirlpool, fitness center, convenience store and on-site dining option, The Garden Gille & Bar.

SpringHill Suites East Lansing
A key lodging development has also just been completed on the busy Trowbridge road corridor in East Lansing. Just a short walk from MSU campus the location offers guests premium access to the university and Greater Lansing as a whole. The 88-guest room all suite hotel will offer daily complimentary breakfast, indoor pool, fitness center and a 323-square-foot space perfect for a group of 20-30 individuals.


The Graduate Hotel
Cranes have started to dig at the corner of Grand River and Evergreen Avenue in East Lansing as construction begins on the Graduate Hotel.
The 10-story, 194-room ground-up hotel development will be located adjacent to Michigan State University in downtown East Lansing. Construction is underway and once complete in fall 2020, the hotel will open as Graduate East Lansing, part of the Graduate Hotels collection. The hotel will be steps from Michigan State University's campus, including the MSU Union, and a 10-minute walk from Spartan Stadium. The hotel's lobby will provide space for guests and locals to socialize, relax and study, while the rooftop bar will offer views of MSU's campus. The hotel will include more than 5,000 square feet of meeting and event space. Its ground floor will consist of retail space for lease.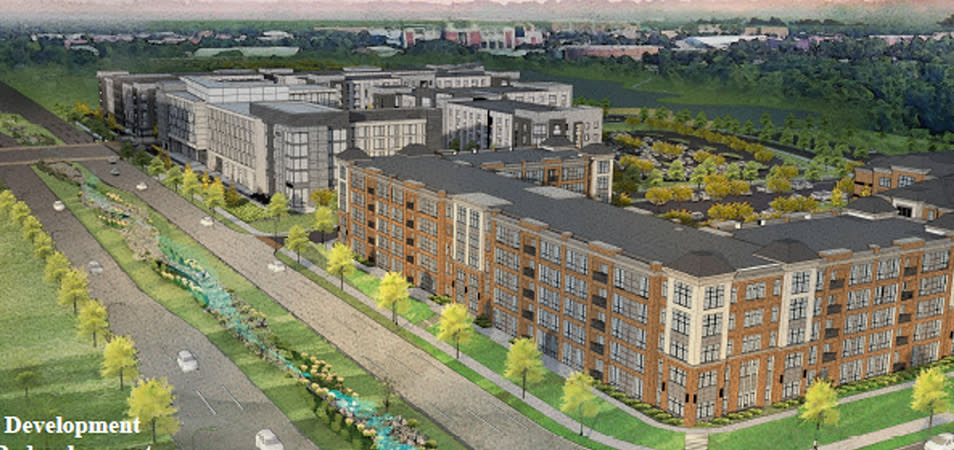 Red Cedar Development
Additional regional enthusiasm surrounds the high-profile Red Cedar Development, a multi-building complex that has been on the drawing board for over five years.
The shuddered municipal Red Cedar Golf Course is the proposed future site of a $250 million, six-building development project. The plan will establish the largest mixed-use development tax base for a single project in Lansing's history.
The project is at an ideal location with ready access to freeways, work and play and when completed, the local community can expect a new vibrancy and major economic impact. Bridging education, government, health care and community together Red Cedar project can serve as a long-needed connector from the state Capitol to Michigan State University. The project plan includes multi-generational housing, two hotels, and an assisted living and memory-care facility. Plans also call for restaurants, retail space, an amphitheater and a public park.
Heritage Hall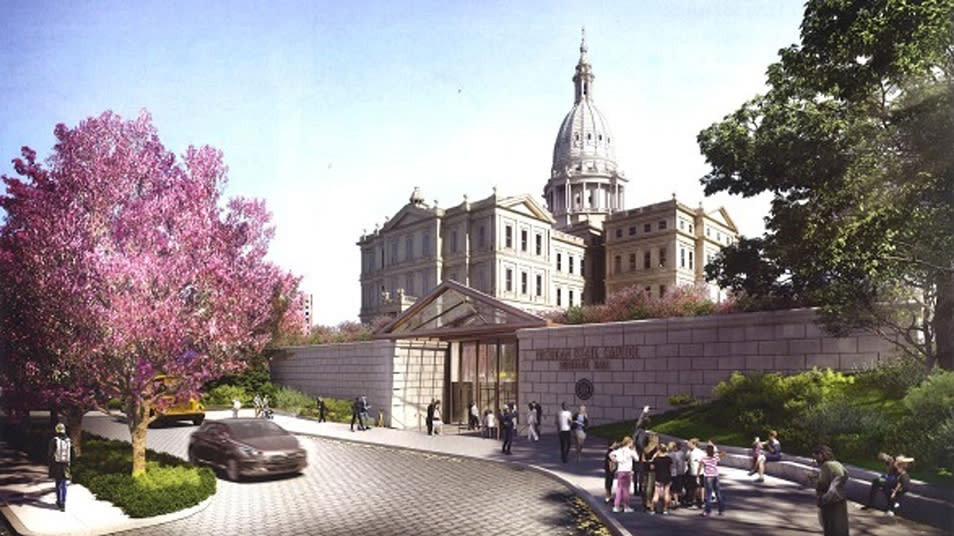 Combine all this with the flurry of activity on the Capitol lawn as developers work to create the Heritage Hall facility and you've got growth development never before seen in Greater Lansing.
The hall is designed as a two-floor, underground facility lit primarily by skylights. It would have a lobby with educational exhibits and a meeting space in a lower floor, which could hold between 300 and 625 people, depending on its setup. The hall would connect to the Capitol via a tunnel, and would serve as a visitor hub and events center perfect for weddings or a conference function and would reduce wear and tear on the Capitol building itself.
Hotel and attraction construction is really turning heads, but it isn't the only exciting development underway in Greater Lansing. Construction is expected to be completed this summer on the highly-anticipated Rotary Park. This new downtown Lansing leisure offering will give a beach feel to the downtown riverfront, enhance the rivertrail and offer a lighted forest and all kinds of new gathering areas. This summer also is the inaugural season of the Lansing Ignite, the states only professional soccer team. Home games in Cooley Law School stadium will work in conjunction with the Lugnuts to ensure professional sports in downtown Lansing every weekend this summer. This flurry of construction activity is not only changing the landscape in the Capital City, its changing the way event planners and visitors see the city of Lansing.