Be A Tourist In Your Own Town (This Saturday June 2nd from 10 a.m. to 5 p.m.) is a fantastic way to explore Michigan's Capital region. From attractions to galleries to wineries and breweries the whole community opens its doors and offers a chance for residents and visitors alike to explore Greater Lansing for just the cost of your $1 passport. You can even leave your car behind and ride the CATA bus for just 50 cents all day. Now, that's the general basics of the event and there are over 90 different attractions and hot spots to explore. What kinds of things can you see and do? How about try ice cream flavors, see wild animals, play with science, see antique cars, view one of a kind art and on and on. but what about if you're a huge sports fan? Well if you're reading the Greater Lansing Sports Authority Blog we're guessing you are and you're in luck because the event offers a lot of great opportunities for sports fun. Check it out!
At AL!VE in Charlotte you can check out the 36-foot treehouse, crafts, basketball, fitness classes, a rock climbing wall, spa services and much more.
With Battleball Lansing (formerly Knockerball) you get inside an inflatable ball and play soccer in a way that lets you bump and tumble all over the field. Got to see it to believe it.
At Burchfield Park show your passport for a free half hour paddle boat ride.
At the Charlotte Aquatic Center, you can get a free dip in the pool and totally relax in the water.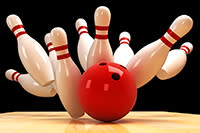 Bowl a game for free at City Limits Bowling Center or Spare Time Entertainment Center.
Get on your feet and roller skate to your hears content at Edru Skate-A-Rama.
At Funtyme Adventure Park you can get a free round of mini-golf! You know you're short game needs work...
Ever been to the Greater Lansing Sports Hall of Fame? I bet you'd be impressed. Along the West wall of the downtown Lansing Center is a full display of the best athletes and sports figures to come out of our beloved city.
Cooley Law School Stadium, the home of the Lansing Lugnuts will be offering tours of the concourse, press box, field and more.
Get out to Haslett and the Lansing Sailing Club and get a free sailboat ride (weather permitting).
River Town Adventures is offering $5 per person half hour kayak rentals on the Grand River in downtown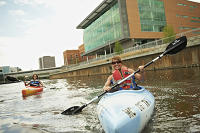 Lansing.
Ever played Laser tag? You've got to try Zap Zone. it's a blast and will have you running around like a 12-year-old in no time whatsoever.
Sound like attractions and events you'd like to be a part of? Scratch your itch to get in the game and get your heart rate up? Well jump in and play, because on Saturday June 2nd its your day to Be A Tourist and be a Sports Super Star!